Router Guide for Finishing 80% Lower Receivers
In order to effectively mill an 80% lower receiver, you will require an affordable router that is both effective and dependable. However, there is an abundance of diverse 80 lower routers on the market, so it can be often time-consuming and headache-inducing to determine which is the best one for the task.
Fortunately, at 5D Tactical, we have decades of experience with finishing an 80 lower to build our own, complete firearm. In fact, we've used several routers from the most trusted brands in the industry, and have discovered which ones are the most reliable.
In this guide, we'll provide information on the best routers for milling an 80% lower receiver, and we'll answer common questions about their application. However, before we begin, we must cover the absolute basics first.
Brief Overview of 80% Lowers
If you've somehow stumbled upon this page, and you don't know how you've ended up here, then you may be wondering "What is an 80% Lower Receiver?".
An 80% lower receiver is, for the purposes of this post, an otherwise complete AR-15 or AR-308 lower receiver that still requires some machining to be operational. It's a paperweight that looks a whole lot like a functional receiver, but it isn't one…yet.
As far as the ATF is concerned, these unfinished receivers might not be considered firearms, so typically, they can be purchased as freely as a simple paperweight. And, what could one do with said paperweight, you wonder?
Disclaimer
5D Tactical remains a loyal and staunch supporter of the Second Amendment, however, we are not lawyers. The information provided in this blog is meant to be a service to the public and is not meant to be taken as legal advice.
Please stay up to date with your local and state laws regarding gun control laws. If you need a definitive answer do your own research as well, otherwise, consult your own attorney.
Finish Your Own AR Rifle with a Router for Milling 80 Lowers
Well, with a little free time, some basic experience with common hand tools, and the best 80% Lower Receiver Jigs on the market, it's easy to finish your AR-15 or AR-308. By completing your 80% lower receiver, you empower it to become the 100% lower receiver it was always meant to be.
Maximum Milling Depth for 80% Lower Receivers
The maximum milling depth for an 80 lower is 0.630 inches from the surface of the receiver. Milling carelessly, such as milling at overly aggressive speeds, can increase the opportunity for end mill tool breakage, so care must be taken.
The Best Routers for Milling 80% Lower Receivers
In this guide, we're going to talk about routers. Specifically, which routers are best for finishing an 80% AR-15 or AR-308 lower receiver with our Universal Router Jigs.
Being able to machine-finish the lower receiver with only a handheld drill and a compact router is a relatively recent idea. In fact, it's more recent than the concept of 80% lower receivers themselves.
From the comfort of your own home workshop, you can achieve results that rival CNC mills when you machine the fire control group pocket. All you need is a good jig and the appropriate, specialized, end mill cutting tool.
Reviewing 80 Lower Routers: How 5D Tactical Rates a Product
In the course of developing our router jig and, subsequently, our Universal Router Adapter, we were tasked with purchasing and testing every compact router we could get our hands on. We limited our scope to compact routers because they are much more ideal than full-sized or plunge-based routers for this application.
Additionally, they're cheaper, smaller, sufficiently powerful, and readily available. As we discovered, not all compact routers are created equal. Some of our in-store favorites turned out to fall near the bottom of the recommendations list. Conversely, we were surprised by the potent performance of a few routers that we initially didn't have high hopes for.
Rating Methodology
We use a rating scale of 1 to 10, with 10 being the best. All of the routers we tested were quality, name-brand routers, so as one would expect, none of the routers that we tested received a rating lower than 4.
Read below for a comprehensive review of the routers that we tested, and to learn which routers we recommend for use in conjunction with our own router jigs.
80 Router Review: 5D Tac Router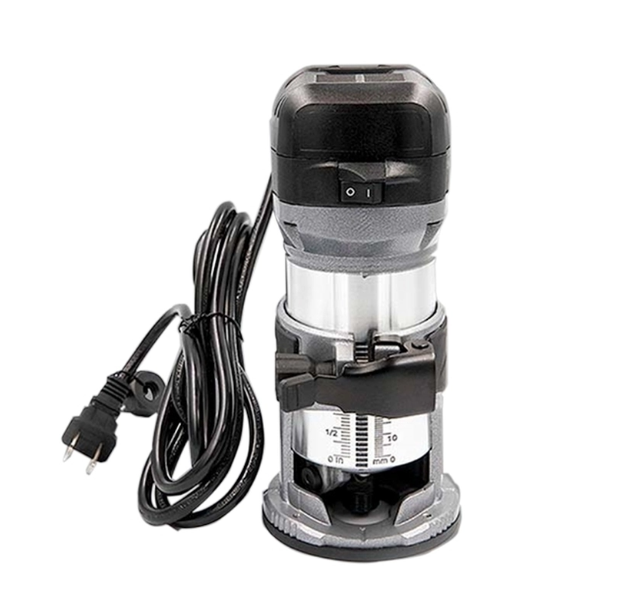 5D Tactical Tac Router Rating: 9/10
In a list of the best 80 lower jig routers, you could honestly stop reading the blog right here and only consider our Tac Router. Here are it's specs:
-RPM: 35,000
-Fixed speed
Ensure your building and milling process to be able to have the best completed 80 lowers our router tool designed specifically for milling aluminum. However, we understand that sometimes people have other brands' routers to do woodworking projects or previously had these power tools already which is why our end mills have different sizes for maximum compatibility with all common routers on the market.

The only reason we graded our own router a 9 and not a 10 is that if you used a larger router it would chew through the metal a lot quicker. A benefit of using a router like ours is that it's not as tiring to use a more compact and lightweight model.

80 Router Review: Bosch PR20EVSK
Bosch PR20EVSK Rating: 6/10
This router sits near the top of the price point for the routers that we tested, but it's also widely available online for $119 or less. Furthermore, it boasts a powerful 5.6A variable speed motor.
The Bosch PR10E is visually and mechanically similar to the PR20EVSK, but it lacks the variable speed option. Both Bosch offerings will work, but some fiddling with the depth adjustment is required.
To achieve the minimum milling depth for 80 lowers, the router shroud must be pulled past the built-in depth adjustment, and extra care must be taken to ensure the shroud is locked to the router body. The relatively high price point, and lack of an LED work light, are the only other negatives.
80 Router Review: Bosch PR10E
Bosch PR10E Rating: 4/10
As mentioned above, the PR10E is the non-variable speed brother of the PR20EVSK. The powerful motor makes the PR10E a good router for the money, but variable speed is a must when finishing aluminum 80% lower receivers with a jig.
The PR10E also suffers from the same depth adjustment issues as the PR20EVSK. At the $99 price point, we'd certainly recommend the Makita RT0701C instead.
80 Router Review: Craftsman 28212
Craftsman 28212 Rating: 7/10
At $90, the Craftsman is feature rich, including variable speed motor adjustment, LED work lights, and optional dual-handle base. The dual-handle base is compatible with our Router Adapter for added stability and control.
During use, we did experience an issue where the motor speed would drop under load. Craftsman advertises a "soft start" feature, which may or may not be what we were experiencing.
The depth adjustment is a little clumsy at times, and hard to get right the first time. For these reasons and because we've yet to determine whether our router was faulty, or if the speed drop under load is considered normal, the Craftsman is not at the top of our recommendations.
80 Router Review: DeWalt DWE6000
DeWalt DWE6000 Rating: 5/10
This Dewalt lightweight is a very basic router, with none of the features we would expect for $99. It does not feature variable speed, it lacks an LED work light, and it feels flimsy.
It's the only router we tested that features a clear plastic shroud rather than die cast aluminum or something similar. As a matter of fact, initial impressions were so poor that we almost left this one on the shelf to collect more dust.
However, in testing this router actually performed quite well.
Remember the surprises alluded to earlier? This was one of them. We like the screw-type depth adjustment collar, and the collet held tight through our worst abuse.
Although not variable speed, we found the fixed speed to be very close to ideal. The clear plastic shroud also allows some light through to the work area, which alleviates some of the concerns of not having an LED work light.

80 Router Review:DeWalt DWP611
DeWalt DWP611 Rating: 10/10
This is the largest compact router offering from DeWalt. At $129, it's also one of the most expensive routers we tested. It boasts a very sturdy feeling, with all the features we look for in a good router.
The DeWalt heavyweight features a very powerful 7A motor, variable speed adjustment, and LED work lights. The screw-type depth adjustment collar is very fast and accurate, but we did experience some issues with the depth adjustment slipping due to the lock being too loose.
A simple adjustment with an Allen wrench solved the issue, but care must be taken to avoid user error. Once the lock was tightened, this router catapulted to the top of our recommendations.
80 Router Review:Makita RT0701C
Makita RT0701C Rating: 9/10
This is one of our favorite routers for the money because, at $99, it is a quality and powerful router. In fact, we consider the Makita to be the best value of all routers tested, and for that, the fair price point earns it another victory over similarly equipped routers.
The Makita's 6.5A variable speed motor produces great results for all types of aluminum lower receivers. While it lacks an LED work light, the collet is oversized and remained tight through our testing.
The gear type depth adjustment was easy to maneuver and lock, which we liked. For those looking to purchase a new router, we would suggest limiting your choices to this router, or the DeWalt DWP611, depending on your budget.
80 Router Review: Porter Cable 450
Porter Cable 450 Rating: 6/10
This is a large and powerful router with LED work lights, but it lacks the variable speed option. DeWalt and Porter Cable are manufactured under the same parent company, so this Porter Cable offering is virtually the same as the DeWalt DWP611.
Like the DWP611, it carries a hefty price at $119, so extra points were deducted due to the high price-point. While the Porter Cable 450 is a heavy-duty router, we would recommend stepping up to the DeWalt DWP611.
80 Router Review:Porter Cable PCE 6430
The PCE 6430 has all the makings of a great router, including an LED work light, and it's priced right at $99. But the PCE 6430 falls short on motor power (4.5A) and the variable speed option, which we must reiterate is a must-have for milling aluminum of different types.

Numerous consumer reviews have indicated this router has a faulty depth lock and general build-quality issues. We would recommend steering clear of this router.
80 Router Review: Porter Cable PCE 6435
Porter Cable PCE 6435 Rating: 5
At $129, this is one of the most expensive routers that we tested. The Porter Cable PCE 6435 is visually similar to the PCE6430, but does feature the variable speed option with a more powerful motor.
The earlier production models of this router were some of our favorites. However, we have recently downgraded this router's rating due to customer reports of a failing depth lock and excessive vibration during use.
Unfortunately, we can no longer recommend this router. This is because it appears that the company has made generational changes to this router which adversely affect its performance.
80 Router Review: Rigid R2401
Rigid R2401 Rating: 7/10
This router scores points because it is widely available at your local home improvement chain and packs a ton of features. However, the depth adjustment and collet can be finicky at times.
For $129, we'd recommend the Porter Cable PCE6435 or DeWalt DWP611 instead. The 5.5A variable speed motor, LED work light, and sturdy construction could make this router a winner if extra care is taken to ensure the depth adjustment and collet do not come loose while milling.
It seemed the depth locking clasp didn't like to lock, and the collet required an unusual amount of torque to keep it tight.
80 Router Review: Which one is the best?
Take this recommendation for what it is. It's rooted in facts, but laced with opinions. If you already own one of the routers listed that scored poorly with us, you don't need to run out and buy a new router.
At the end of the day, we tested and used each of these routers for multiple milling processes, and generally with good results. Variable speed is the most important feature for us, and anything else is merely a bonus.
If you're a novice user and don't feel comfortable with carefully controlling the material feed rate, some of the non-variable speed options may present challenges and less than ideal finish results.
Find the Best Routers, Jigs, and 80 Lowers at 5D Tactical
If you would like helpful hints and advice, our experts are happy to help. For more in-depth instruction on how to mill out a 80 percent lower, see " How To Complete 80% Lower Receivers." For help finding the ideal router for your next project, reach out to our team today.