Is the Steyr AUG the Best Bullpup?
Alright Counter-Strike players and movie fans, strap in so we can talk about the legendary bullpup that has graced so many screens over the years - The Steyr AUG. Bullpup rifles might seem like quite the oddity to most people in the states but in other countries the bullpup is as normal a sight as is our AR-15 here in the USA.

As far as bullpup rifles go, the Steyr AUG has taken up the spotlight for consistent reliability and has been tested in real world environments for the past five decades. But being old school has its drawbacks when being put to work against the ergonomics of more recent contemporaries like the Tavor X95 and Springfield Hellion. Today we explore the growing aftermarket of Steyr AUG upgrades to tailor to individual needs in hunting and tactical settings.
Photo Credit: IMFDB
Steyr AUG Origins
In 1864, Josef Werndl founded Josef und Franz Werndl and Company to produce the Werndl-Holub M1867 rifle for the Austro-Hungarian military. It would grow to become one of Austria's largest arms producers located near the hearts of Austria's Erzberg mines where it sourced its material for iron and steel. After its merger with Austro-Daimler-Puch, the conglomerate rebranded itself to Steyr-Werke AG.

While Steyr was a pioneer of semi-automatic pistol and self-repeating rifle/carbine technology, they were unfortunately also pioneers in being the first of the Third Reich's practice of industrial forced labor using Germany's concentration camps. These involved slave labor to produce war-time vehicle engines, small arms, and construction under another merger with Steyr-Werke AG this time rebranding as Steyr-Daimler-Puch. Steyr-Daimler-Puch became a manufacturing giant of motorized vehicles and arms.

Over the course of the century however, it would eventually dissolve into various companies each focused on its own niche of development. Steyr Mannlicher AG is the Steyr we are familiar with today based in Sankt Peter in der Au, Austria.
Recognizing the demand for a replacement rifle to succeed the license-built FN FAL of the Austrian armed forces, the StG 58, Steyr proposed their bid with the Armee Universal Gewehr (Universal Army Rifle) or AUG. The AUG was first adopted by the Austrian Army in 1977 under the designation Sturmgewehr 77 (StG 77). Since then variants of the AUG family have been adopted as service rifles in more than 24 countries and seen various conflicts including the Ukraine-Russia War ongoing today.
What is a bullpup?
A bullpup refers to a firearm design layout in which the trigger group is located in front of the breech of the firearm instead of behind it. Simply put, the action and magazine are in the rear of the weapon behind the grip. Bullpup rifles offer a unique shorter overall weapon length without compromising in velocity by retaining a longer barrel in a much more compact package.
Steyr AUG with a 16" barrel compared to a 7.5" AR-15 pistol. Photo Credit: Pew Pew Tactical
Is the Steyr AUG a good gun?
The Steyr AUG is an extremely reliable rifle that is battle-tested and proven. It has undergone decades of intensive trial testing and serves in harsh battle environments eating tens of thousands of rounds rated to NATO's high pressure load standards. Bullpup manual of arms do take getting used to for individuals accustomed to operating the AR-15 design, but it becomes intuitive very quickly. Ease of operation and field stripping makes the Steyr AUG rifle an easy to maintain and reliable package
Field stripping the AUG is an absolute breeze. Flipping the switch by the forward grip releases the barrel to twist towards the left and allows the barrel to be lifted from the receiver. Pushing in the takedown button out of the stock permits the upper receiver to simply slide out. The receiver is under tension and can launch itself out if you're not careful with keeping a supportive hand on the receiver to hold it against the stock to be gradually slid out..
Overall, the Steyr AUG rifle is an exceptional weapon - but is it right for you? It certainly could be, but that is entirely subjective. While the compact package of the bullpup can make maneuvering the firearm easier, it can be easier to develop fatigue when holding the rifle at rest with one arm due to the concentration of weight compared to a traditional rifle pattern.
Steyr AUG M3 A1 Field stripped. Photo Credit: Guns America
What military uses the Steyr AUG?
State security forces and armed forces of countries worldwide have adopted variants of the Steyr AUG as well as patterns based on the AUG. The Austrian Bundesheer, Irish Defense Forces, Luxembourg Army, Tunisian Army are the only armed forces to use the original Steyr AUG as the standard service rifle. Malaysia and New Zealand are currently in the process of replacing their aging AUGs with a different service weapon. Many other countries use the Steyr AUG in limited capacities within state departments and special force units.
The Australian armed forces use a licensed copy of the Steyr AUG with changes produced by Thales Australia, the Lithgow Arms F90 Atrax. The current iteration of the Atrax is known as the Enhanced F88 (EF88).
As mentioned above, not only the Austrian Army but also the following countries have adopted the Steyr AUG as their duty rifle:
Australia
Austria
Ireland
Luxembourg
Malaysia
New Zealand
Tunisia
Many more have the Steyr AUG 5.56 rifle in use with certain units on limited issue as well.
Is the Steyr AUG right for me?
Is the Steyr AUG right for me? The AUG is a fantastic bullpup rifle that averages 1 MOA while weighing 7 lbs. Shooters that were raised on M4s/AR15s can find reloading quickly to be uncomfortable the first few times, but with practice anyone will have the same reloading speed as they would with a traditional patterned M4/AR15.
Pros:
Longer barrel length in a compact platform
NATO AUG allows use of STANAGs
Sub MOA with match grade ammunition. Averages 1 MOA. Great accuracy over Tavor X95.
Clean short-stroke piston operation
Easy takedown for cleaning
Can be configured for left-handed use
Cons:
Bullpup guns have a unique operation that takes some getting used to overall
NATO AUG does not have bolt catch and uses the inferior STANAGs over the superior waffle magazines
Trigger leaves a lot to be desired and finding the "sweet spot" is difficult for consistency
Lack of real estate for attaching accessories
Lack of budget friendly aftermarket upgrades
Steyr AUG A3 M1. Photo Credit: Guns America
Upgrading Your Steyr Aug
Now, it's not to say that there are not any aftermarket upgrade parts for the AUG. It's just that they aren't widely available nor are they cheap. Below we have gathered a few of our favorite accessories to add to the Steyr AUG shooting experience.
Steyr AUG Trigger Pack Spring Upgrade Kit
Photo Credit: Ratworx

One of the biggest griefs of most users' first time shooting bullpup rifles tends to be the trigger weight. Paired with an aluminum trigger, the Steyr AUG A3 trigger pull becomes a nice crispy feel of close to 6 lbs. While many argue the new springs should be included in new factory AUGs, the Spring Upgrade Kit is available on Steyr USA's website.
One thing to note is that users report that in conjunction with the 20/20 RatworxUSA sear and the Trigger Tamer, the Steyr AUG is not drop safe when landing on the stock pad from a considerable height. To avoid this, it is preferable to use these trigger pack upgrades individually.
ARID Steyr AUG Improved Trigger and Safety Combo
Photo Credit: ARID

In collaboration with Impact Machine, ARID's newly designed AUG trigger offers a thinner textured surface that grips onto your index finger much more nicely than the thick flat polymer surface of the factory trigger. ARID's trigger is milled aluminum that comes in finishes to match the factory stock colors of FDE, black, and OD green.
Installation can be tricky for those who are unfamiliar with how the trigger wire contacts the trigger pack. ARID refers customers to TN Steyr's installation video for references, but Ian is typically quick to respond on their social media if you reach out directly should you need troubleshooting advice.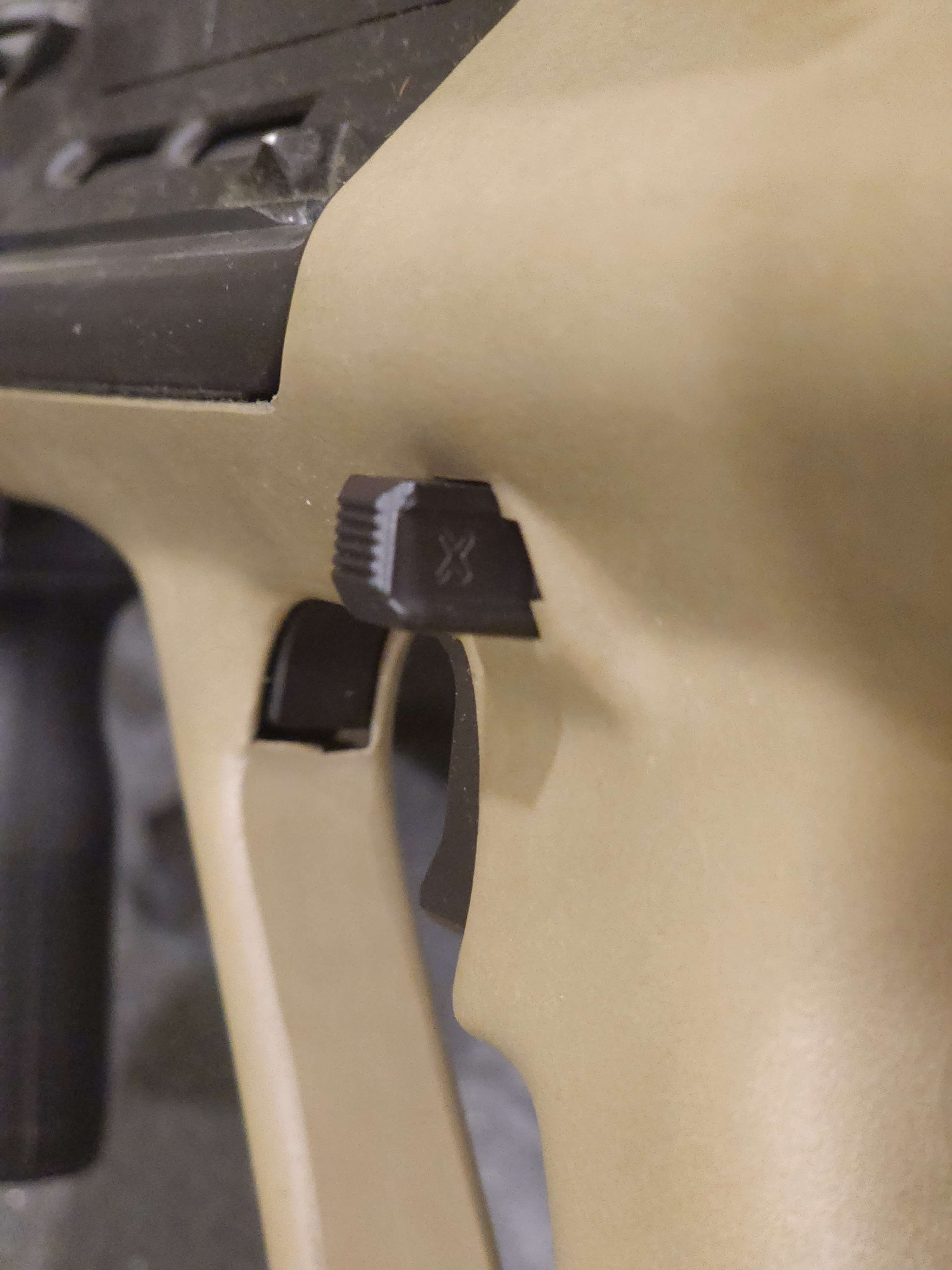 Photo Credit: ARID

The improved trigger can be purchased on their new website and also comes with an aluminum milled safety as a set with the trigger, Steyr AUG Improved Trigger and Safety Combo.
ARID Steyr AUG Improved Magazine Release
Photo Credit: ARID

Shortly after the release of their trigger, ARID set out to begin work on their magazine release immediately, the Improved Magazine Release. The magazine release is machined aluminum and with matching factory colors just like the trigger and safety finishes. They can be outfitted with the standard textured shoe or a thicker textured shoe for more surface area. Installing either one is straightforward and done with a hex patterned screw.
Currently, the Improved Magazine Release is only available for the standard Steyr AUG. It's possible that a new version for the NATO Steyr AUG is in the works and may soon be released for sale in the very near future.
Moosey Creatures Purple Pack


Photo Credit: Moosey Creatures

The Purple Pack is a complete replacement of the Steyr AUG trigger pack featuring AR cassette style trigger. Boasting 1 mm of creep and 2 mm of a trigger reset, this is as crisp as an AUG can currently reach to a high-end match rifle with a trigger pull weight of 4.3 lbs. Purple Pack functions in both standard AUGs and NATO AUGs. However, prior to ordering you must make a note as to whether you plan on running a non-rotational QD pin or not. The Purple Pack is designed around a non-rotational QD slot but can be made to play with the standard freely rotating QD sling attachment. All hammer packs are currently manufactured via industrial SLS printers, a 3D printing process unlike any home printers and runs to $10k+ but ensures the properties and tolerances required.
Purple Pack is the flagship product of Moosey Creatures available on their website.
Silver Star Shooting Sports' 90 Degree Rail
On the lateral right side of the AUG receiver is a small picatinny rail designed to accommodate a mounted weapon light. The rifle mounted light market has grown highly competitive in recent years with Cloud Defensive and Modlite going toe to toe with Surefire, making much more powerful lights with various pressure pad activation switches. If you'd like more real estate for a light setup, the 90 Degree side rail could be for you. In addition to adding more side picatinny rail space for the Steyr AUG, it brings the rail closer to the supportive hand (depending on your grip style) for an easier pressure pad switch activation.
Manta Defense Vertical Grip Sleeves
Photo Credit: AR15.com

For AUG users who prefer to use the vertical foregrip yet still want to easily use a pressure pad light switch, a common technique is dremeling the side of the factory vertical foregrip flat and gluing the pressure pad on with additional zip ties to secure. Modifying factory parts in such an irreversible way with room for error can be intimidating. The Manta Defense Vertical Grip Sleeve functions in the same way as desired without any need for damaging or modifying your vertical foregrip in any way. Installation is straightforward and is simply sliding a light activation switch into the pocket before sliding the entire device over the vertical foregrip. The textured surface also helps your supportive hand avoid slipping from the grip in wet conditions.
Corvus Defensio Anti-Rotational QD Sling Attachment
Photo Credit: Corvus Defensio

Maneuvering with a rifle sling on is an essential feature on any rifle you'll be moving around with. The sling attachment points on the factory Steyr AUG rotates freely and allows the sling to twist and entangle itself. A twisted sling digs into the shoulders and having to untangle it every now and then gets old quickly. Corvus Defensio's Anti-Rotational QD slot attachment fixes this predicament.
Corvus Defensio Case Deflector
Photo Credit: Corvus Defensio

After the first few hundred rounds through your AUG rifle you may begin to notice scratches right beside the ejection port. The lack of a factory case deflector on the Steyr AUG A3 stock means spent casings will keep biting into the stock's polymer body. An easy, temporary fix for this is to apply electrical tape in the space between the stock pad and the ejection sport. This is popular especially for users who use tape to make camouflage patterns on the AUG stock. But for a permanent solution, Steyr contracts Italian manufacturer, Corvus Defensio, to produce official aftermarket parts, including the Corvus Defensio AUG Case Deflector.
Manticore Arms Brass Buster
A more affordable yet permanent option for a brass deflector is offered by Manticore Arm's Brass Buster. It's fully ambidextrous and easily installed as a single polymer piece.
RatworxUSA 20/20 Precision Rail


Want a BCM foregrip or something different than the factory AUG vertical foregrip? You can replace the foldable grip with a lower accessory picatinny rail. Having a weapon mounted light closer to the muzzle reduces splashback, also known as the shadow in your light beam casted by the barrel. The RatworxUSA 20/20 Precision rail comes with picatinny rail space on the dorsal and belly sides rather than Corvus Defensio's Forward Accessory Rail which requires you to purchase two separate components for twice the price.
Outfit your Steyr AUG today with 5D Tactical
Ready to take the plunge into bullpup rifles? Not totally convinced? We get it. With so many great rifles around it can be a hard decision to move away from guns that have the operation that's truly second nature for most of us.
Thanks for spending some time with your buddies here at 5D Tactical. If you aren't quite ready to dive into the world of bullpup rifles, maybe consider checking out our AR-15 build kit and building your own custom rifle! Until next time!